​30 Hours in Busan: A Weekend Guide
Traveling within Korea to spots other than Jeju can sometimes feel daunting. Most of the travel guides and recommendations are in Korean only, and most blog posts highlight the usual tourist spots for foreigners, but are rarely of quality.
With the weather getting slightly warmer, we figured it would be great to take a quick weekend trip to Busan. One of my coworkers is from there and she gave me a great list of places to eat, see and the absolute must-do's. Her itinerary recommendation was totally on point, and we can't wait to go back and see & eat all the things we couldn't fit in this short day and a half. In brief, here's what we managed to fit in and recommendations for getting around.
SATURDAY
Took the 7:50am KTX high-speed train from Seoul Station. The 8am had already sold out before we booked our tickets, and the 8:10 was a local train with more stops. Be sure you're in the correct car number and seat number—Koreans get cranky if you're in their seat (and you're wrong). Download the KTX app on your phone and book through there. The UX is a bit wack but it's more convenient than the website, and lines at the ticket counter can be really long.
10:15am
Arrived at Busan Station a few minutes behind. We ate sandwiches on the train so we're not as hungry as we'd normally be, but we have one thing on our minds: 되지국밥 (pork rice soup). My coworkers had been telling me for a week straight about how delicious this is, and I was a little scared that they set the bar too high. We got to the recommended spot near the train station, 본전 되지국밥 (Bonjeon Dwejigukbap) and apparently this place is pretty famous, because despite the two other restaurants on either side, the line was 20 people long and all for Bonjeon. We were shooed into the basement, grabbed a table and ordered a bowl of soup each. Our original plan was to order two for the three of us and share to avoid getting too full, but the ajumma looked scary and I didn't want to get yelled at.
Once the food came, I was so happy that we didn't share (sorry guys) because yes, it was that good. So good. The soup itself had a deep pork flavor that wasn't greasy or heavy like a ramen broth, and was somehow light. The slices of pork were soft and chewy, just on the slightly bland side so that it perfectly paired with any of the 반찬 or sauces that came alongside the soup. Every other spoonful or so, I put a few tiny salted shrimps on my pork and the saltiness of the shrimps lingered to perfectly season the soup and meat for a few more bites. The green peppers to dip in the house 쌈장 weren't spicy at all, and the freshness was perfect to balance the meat and rice meal. A+ all around.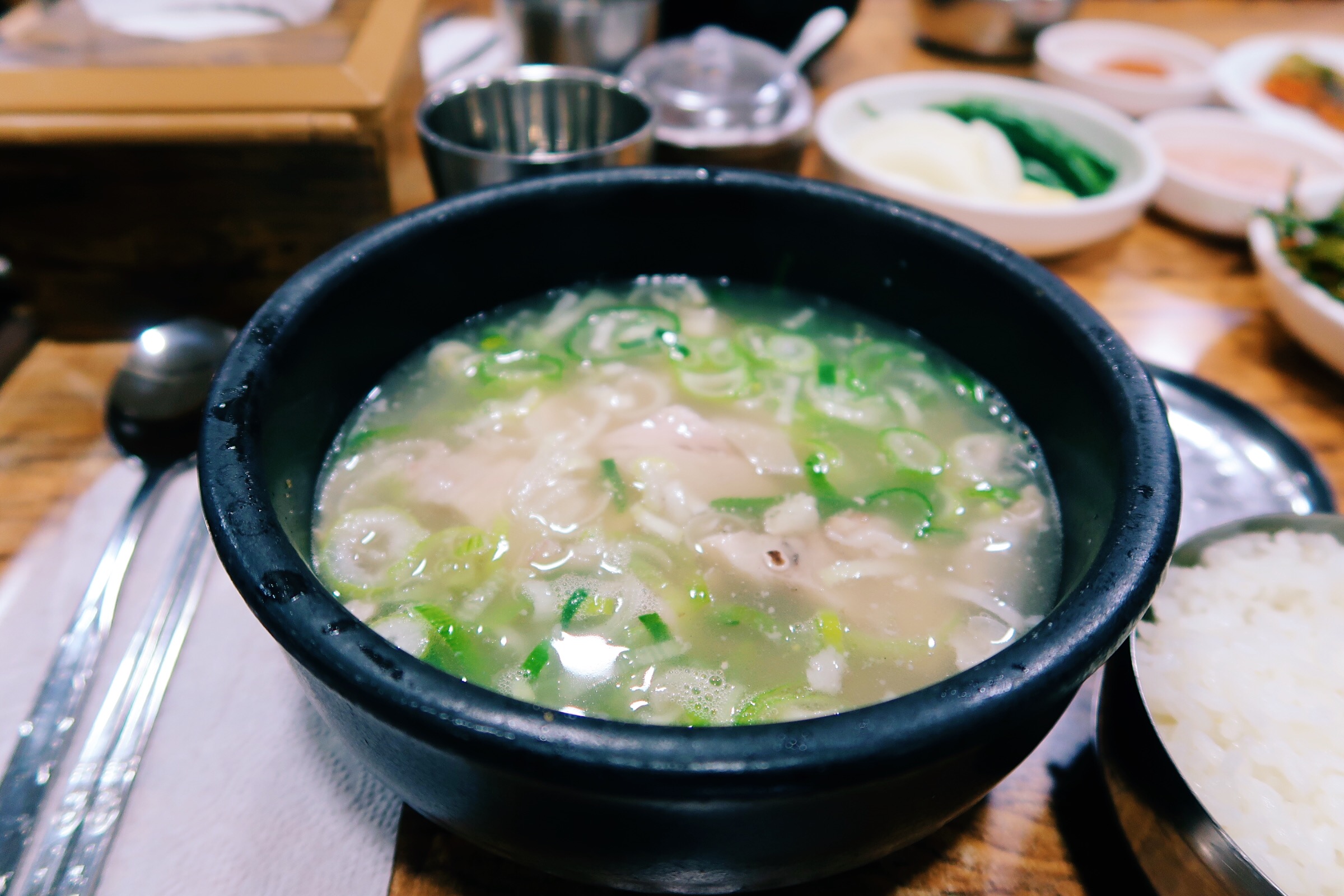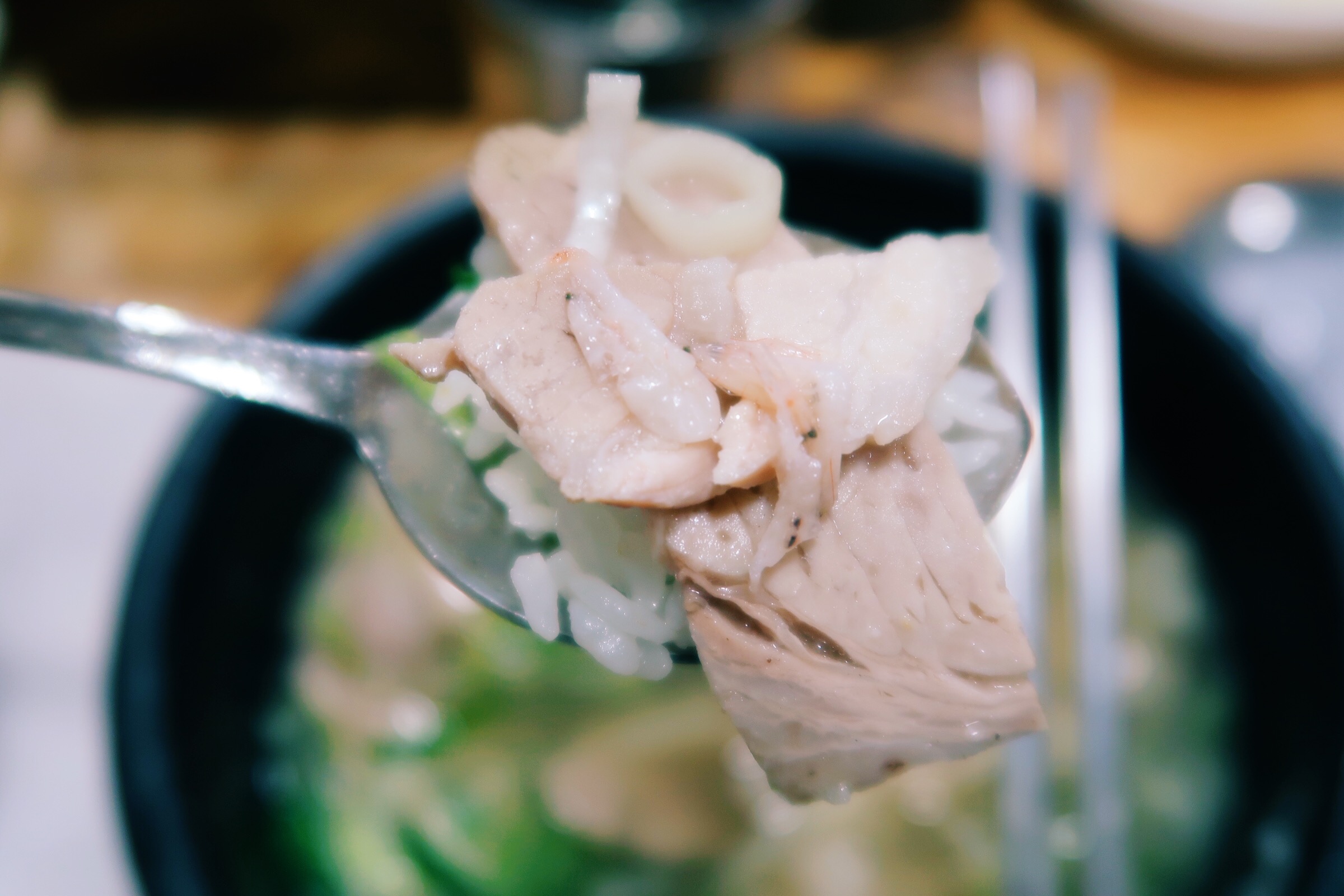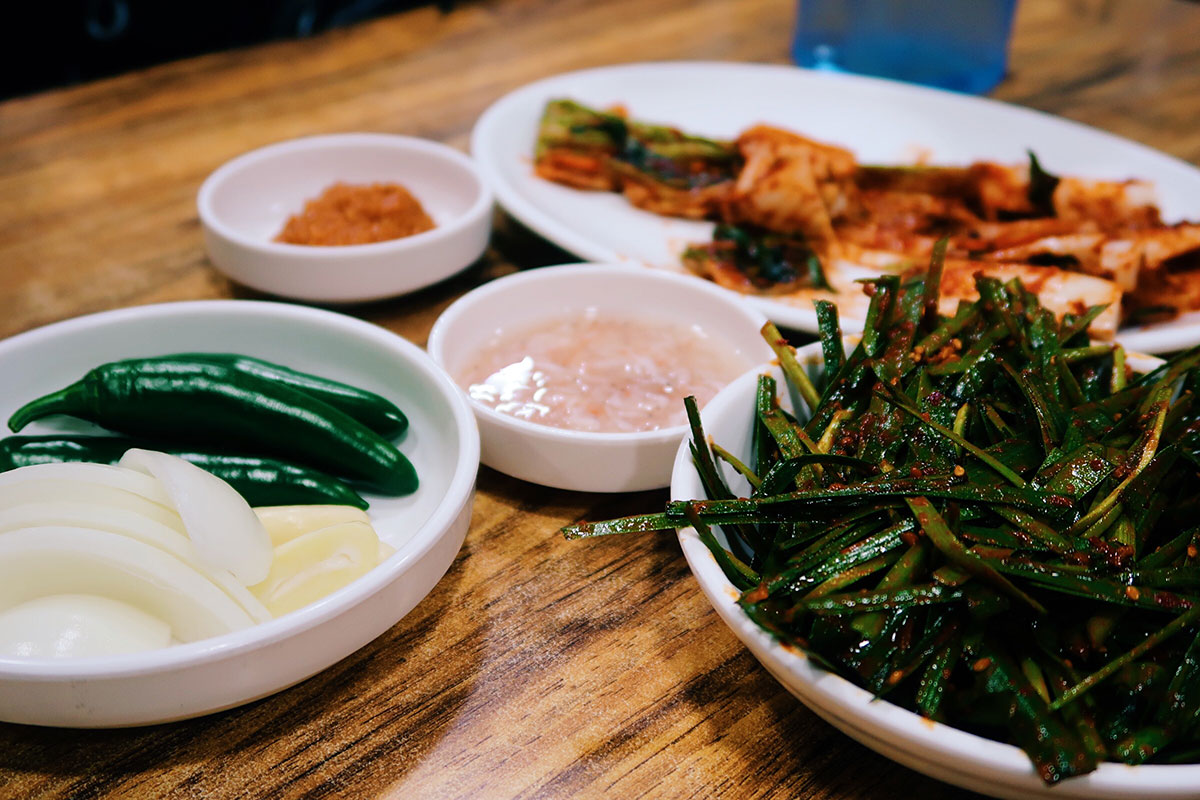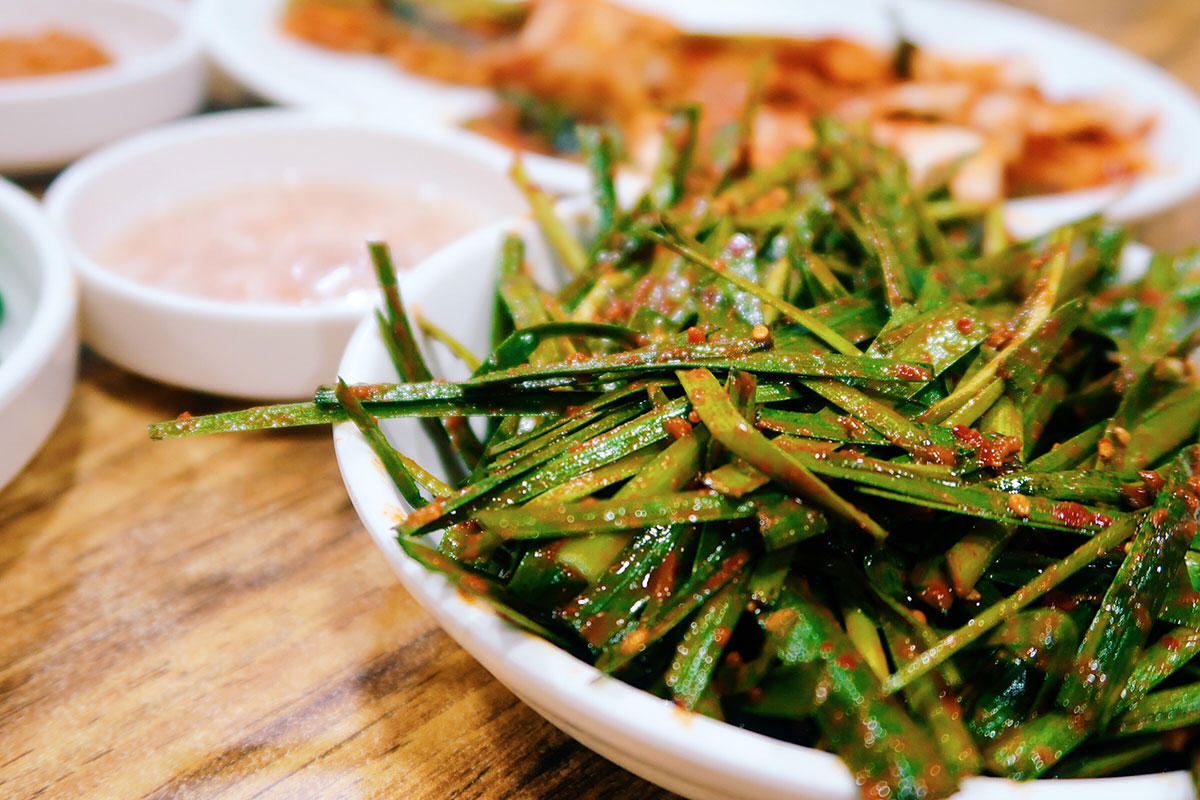 11:30am
We walked out to go back towards the train station to grab a cab, and the line for Bonjeon was way longer than what we had stood in. It is lunchtime, so more people are arriving and hungry. Note to self: next time we come back, definitely take the earlier train.
11:45am
Got in a cab and headed to 감천문화마을 (Gamcheon Cultural Village). This area has hundreds of homes built into the foothills of a mountain, and brightly colored. The Korean tourism website calls it the "Machu Picchu of Busan", but my coworker called it "Busan's Napoli". In any case, it's really lovely to walk through, see all sorts of murals, cafes, snacks and ice cream, and see the village from different vantage points throughout the path built through for tourists. We spent a few hours here and it was really amazing to see how so many elderly Koreans manage to get around this incredibly hilly area made up of narrow alleyways and steep stairs.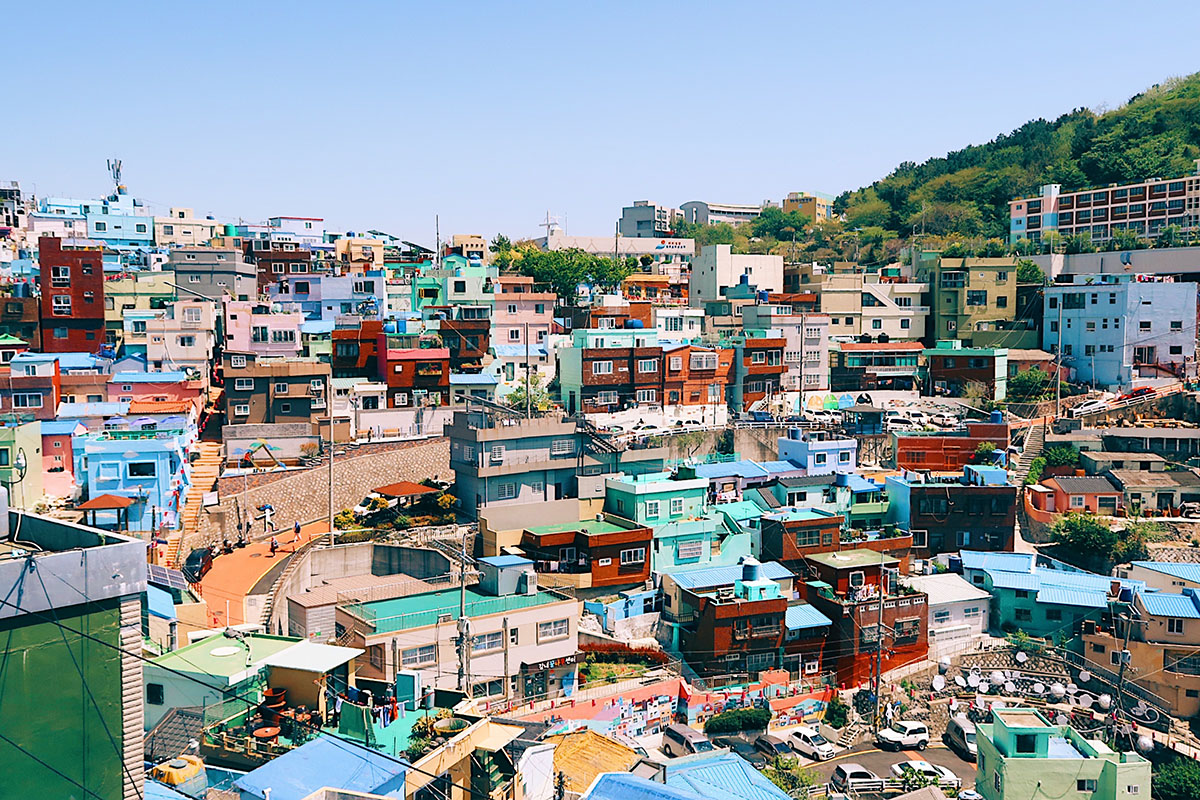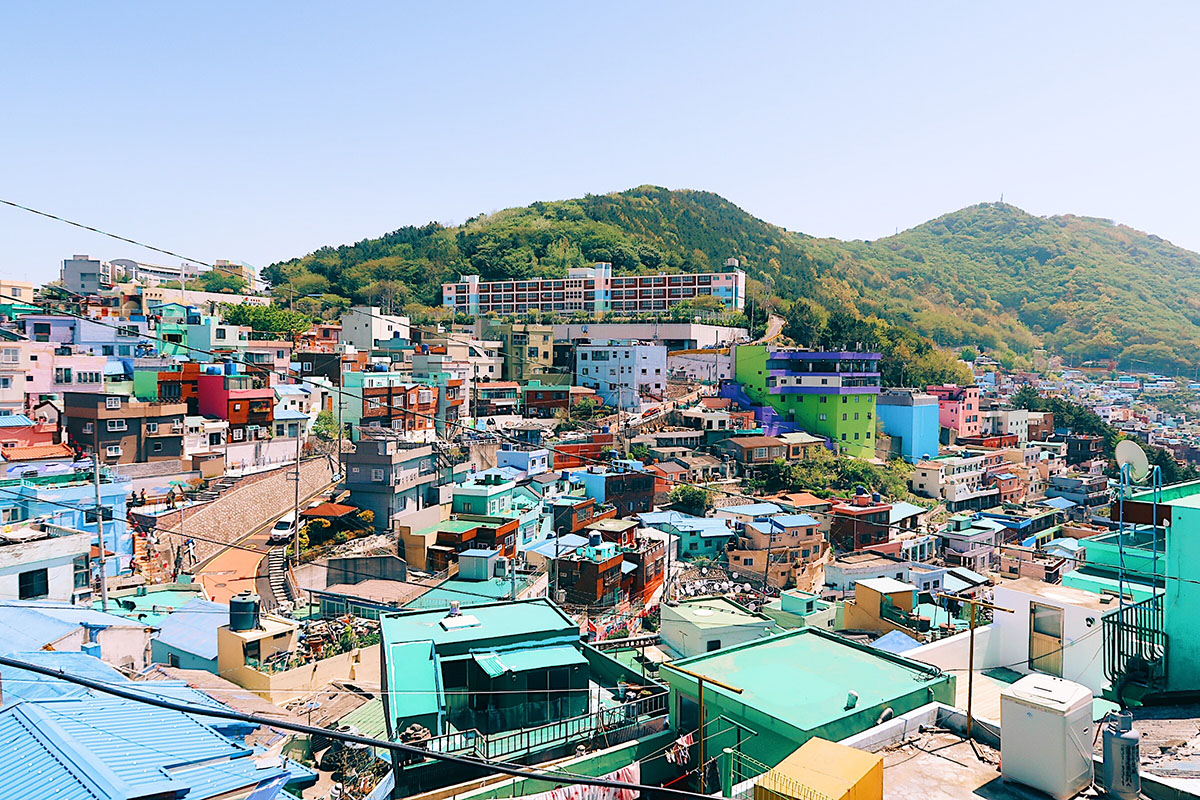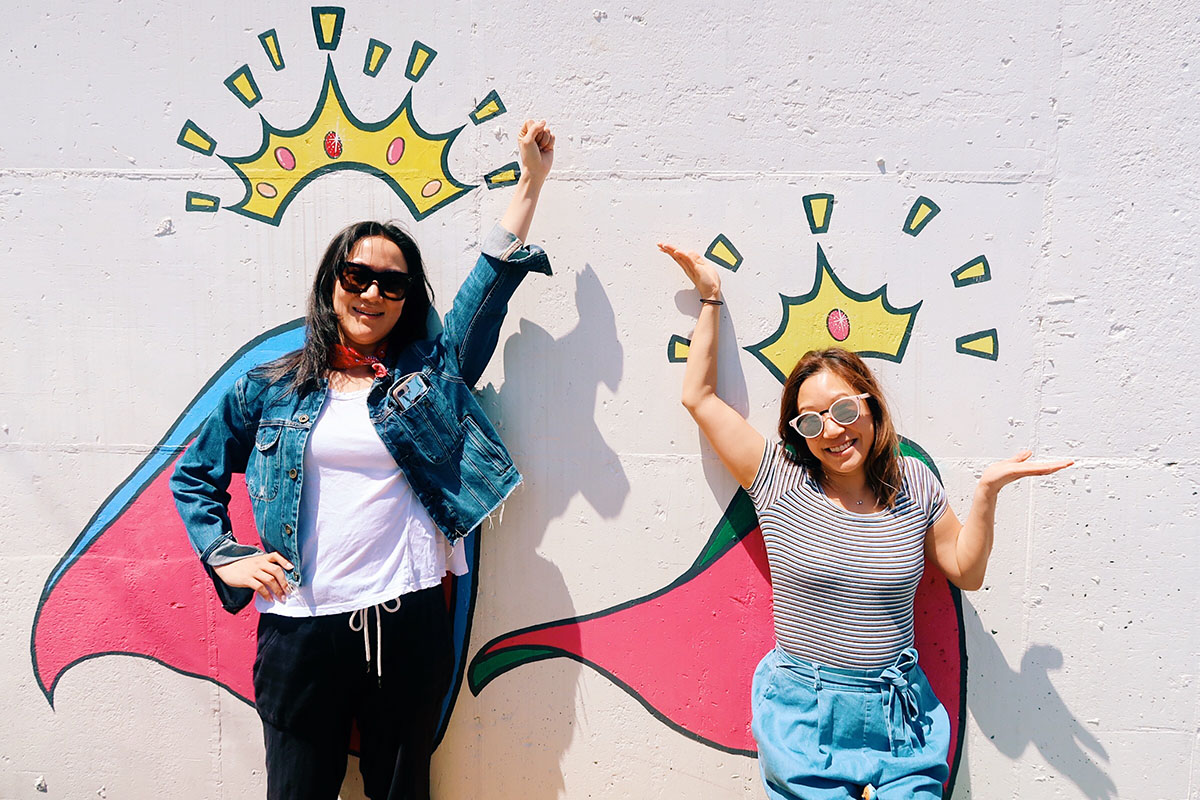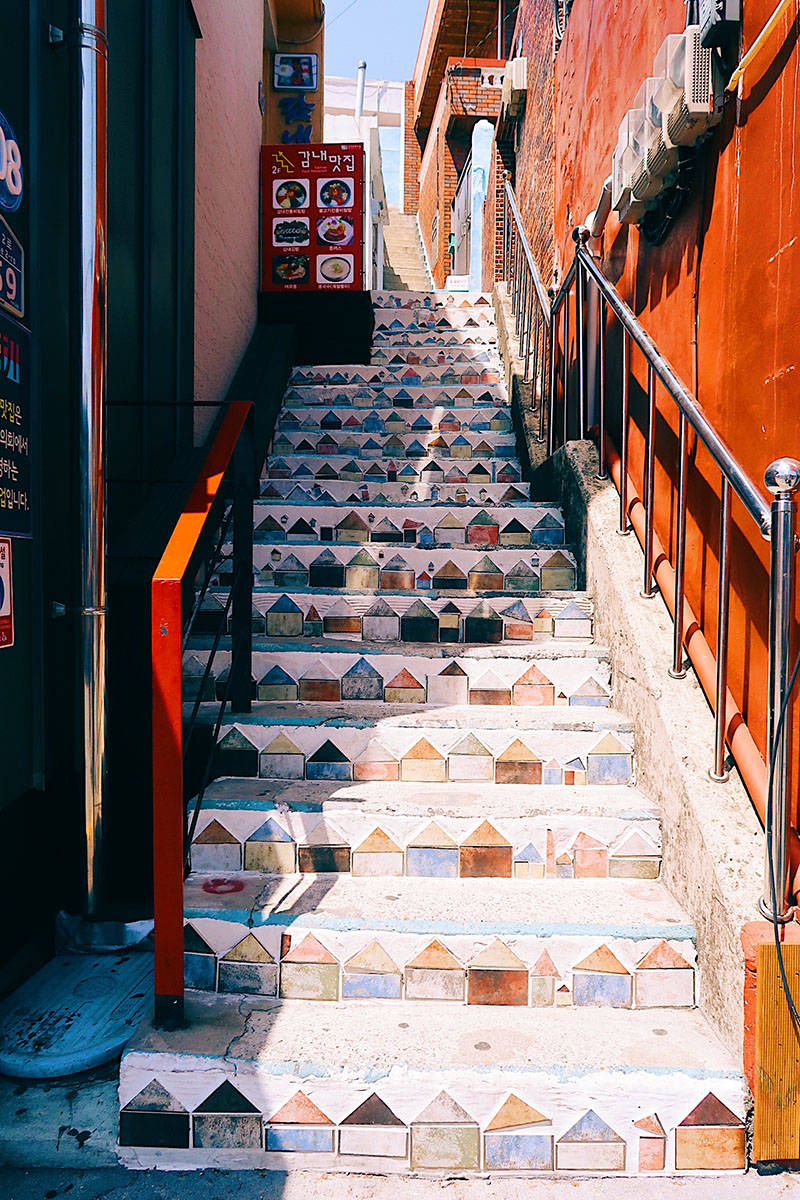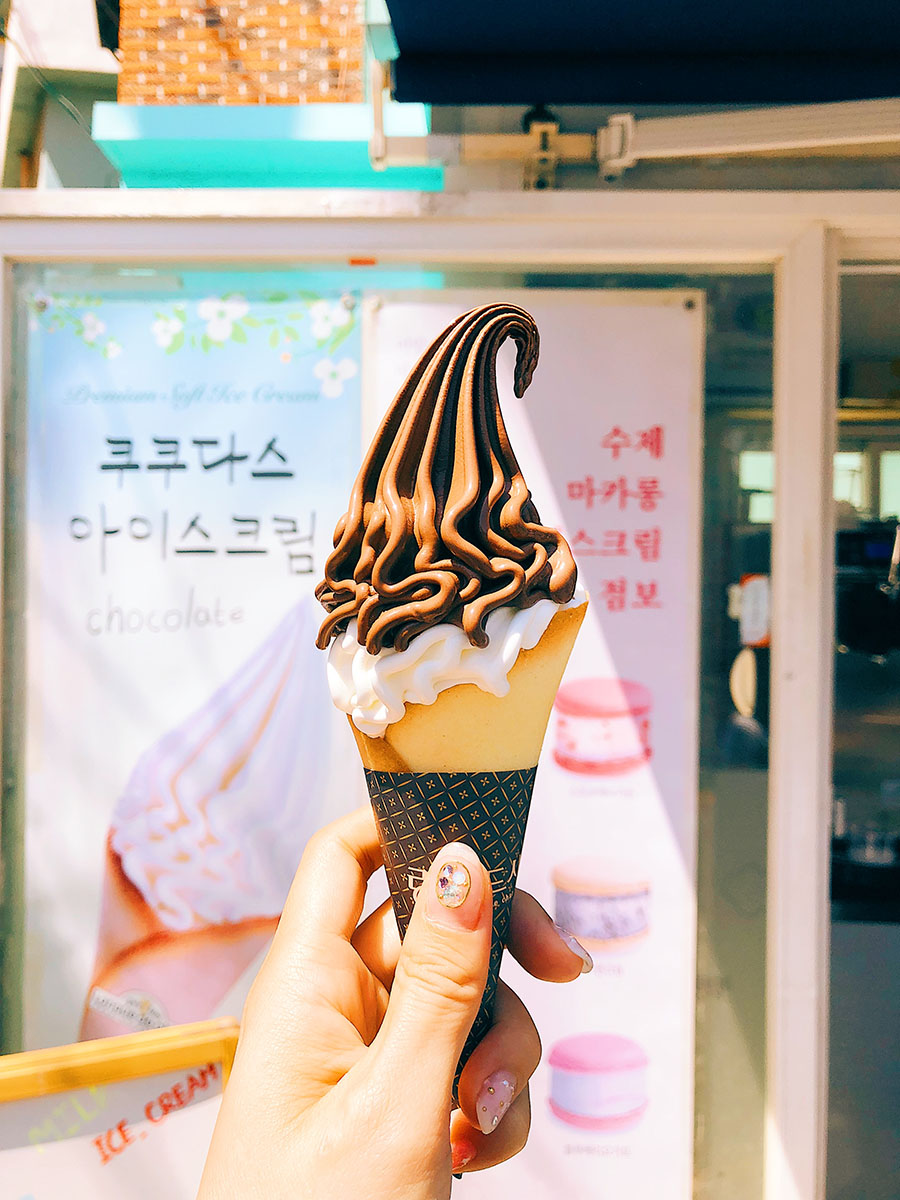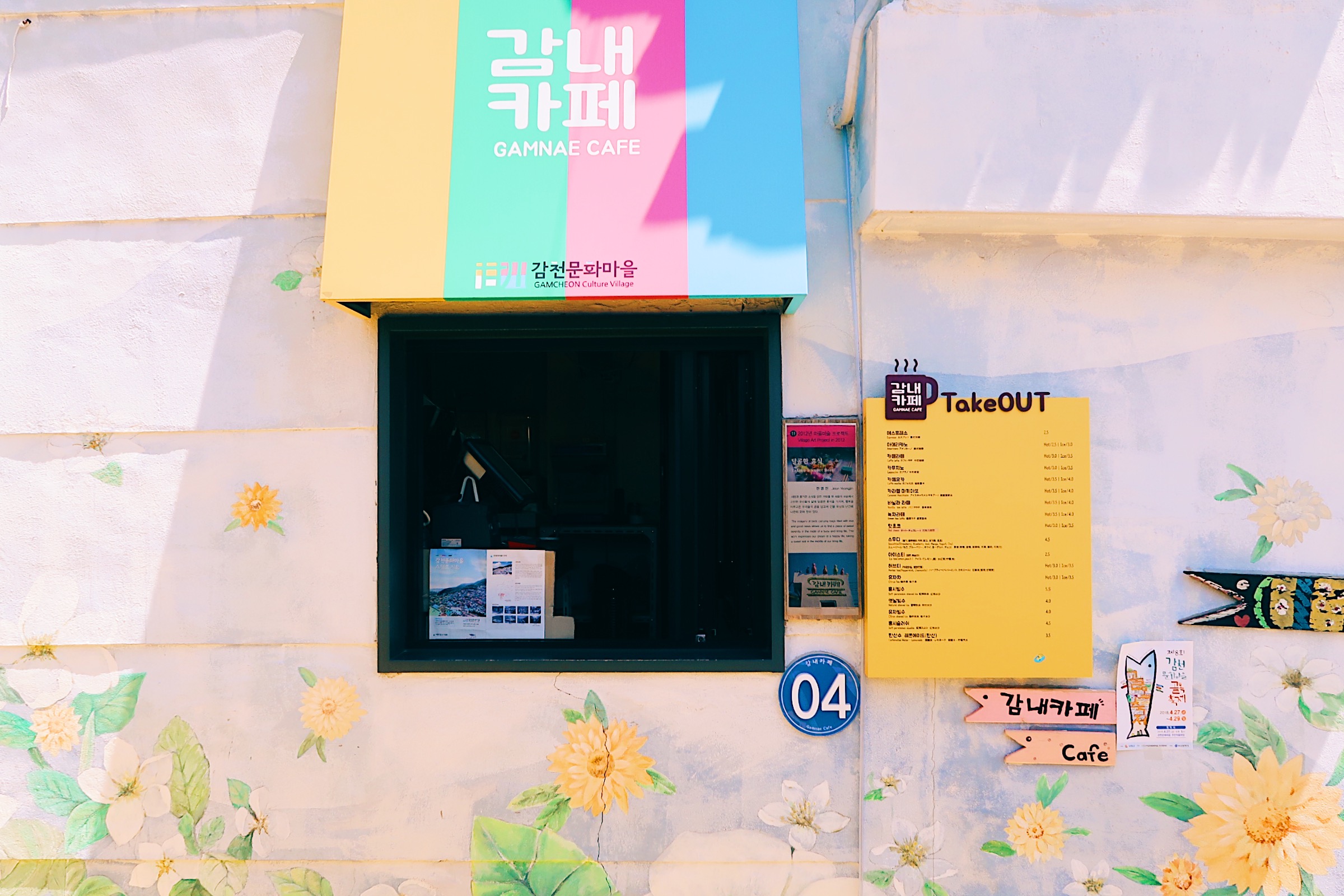 1:45pm
Jumped in another cab to go to 부평깡통시장 (Bupyeong Kangtong Market) in Jung-gu. This market reminded me a lot of Namdaemun Market here in Seoul, but with the Busan accent heard everywhere. The market is sprawling - the building seems like it's shaped like a cross, with multiple intersections and it's really easy to get lost (aka perfect for random wandering). You can easily see the difference in specialities between the markets in Busan and in Seoul; Busan's market was filled with seafood vendors (fresh and dried fishes), 오뎅 aka fried fish paste in all shapes and sizes, and so many salted seafood 반찬s. There were also adjacent clothing markets that spilled into the streets and connected to the main shopping district here. We walked around for an hour or so before getting a cab to head to Haeundae so we could check into our hotel.
3pm
Arrived right on time for check-in at Shilla Stay in Haeundae, one of the big beach towns in Busan. We checked into our room, a cozy, modern and clean spot that's perfect for crashing for the night. No naptime for us, because we have a big ol' beach and a list of beach bars that demand our time. We walked a short block and a half to the main beach park of Haeundae to test out the water (it was freeeeezing). After a quick toe dip, we headed to Fuzzy Navel, a beach bar right by the beach. Bryan got his tiki cocktail, the girls downed some beers and then we went in search of another cab to take us to dinner. We figured that going to the restaurant around 5:30 would help us avoid peak dinner rush and hopefully let us grab a table without a reservation.
5:30pm
We headed to 칠성횟집 (Chilsung Hwet Jip), one of the recommended spots from my coworker, for raw fish and some 소주 (soju). Our taxi driver actually asked us how we knew to go there, and I said my coworker recommended it to us. He said that when people ask him for recommendations, he always tells them about Chilsung because they're consistently good and don't cheat you like a lot of other places do. We ordered the combo platter (잡어 우럭 광어 - halibut, small fish, rockfish) and the server recommended we also add the 도다리 세꼬시 (unboned flounder) saying the combo alone might not be enough.
Well, turns out that the combo alone was enough for three people (at least for the three of us), and the second dish she recommended... it indeed had bones it it. My coworker said that this is a Busan specialty and people love this dish with the bones since it makes it chewier, but it's probably not the best entry-level dish for foreigners. In any case, it was all delicious and wrapping the fish in the perilla leaves with the different sauces was really delightful! We also had 대선소주 (Daesun Soju) which is apparently a famous soju in Busan (we heard two girls talking about that at 10:30am as they were drinking with their pork rice soup). After we finished with fish, we ordered a 매운탕 (spicy fish stew) to end our meal. It had the perfect level of spice, with a rich seafood flavor and plenty of veggies and tofu. All in all, it was really delicious and made us feel just full enough, not bursting at the seams full.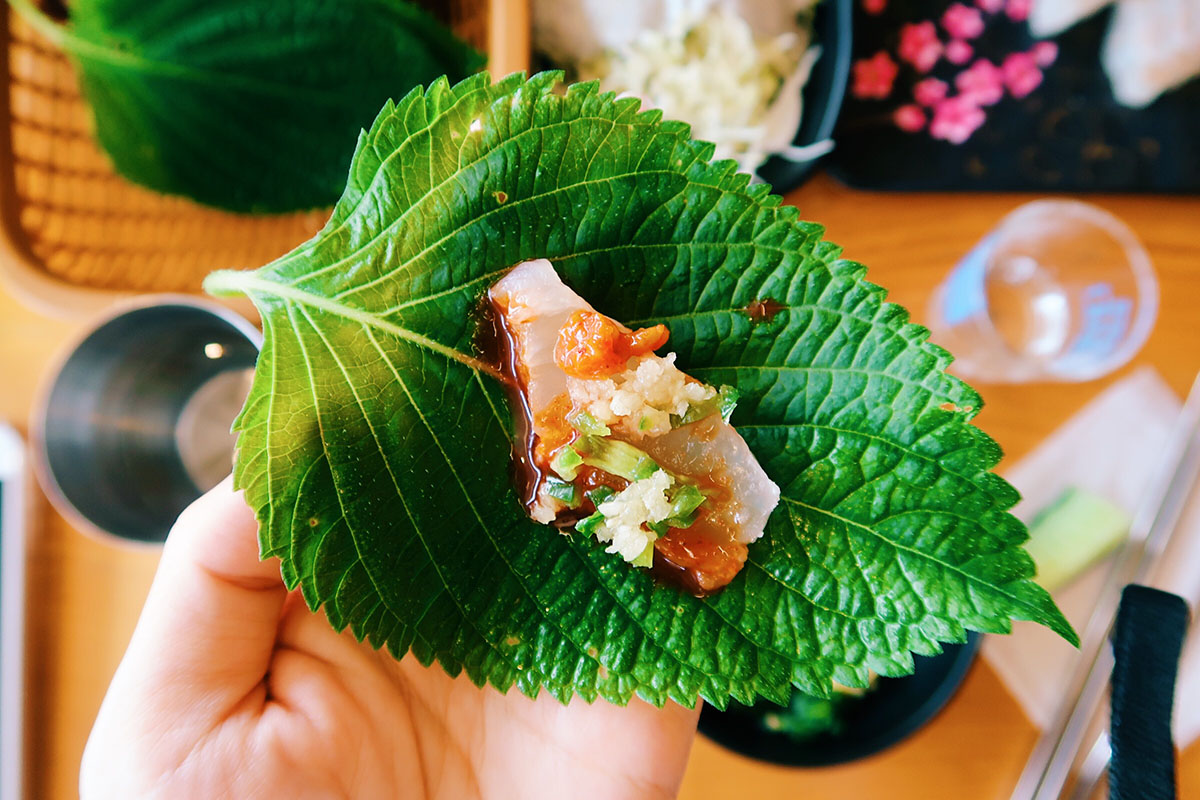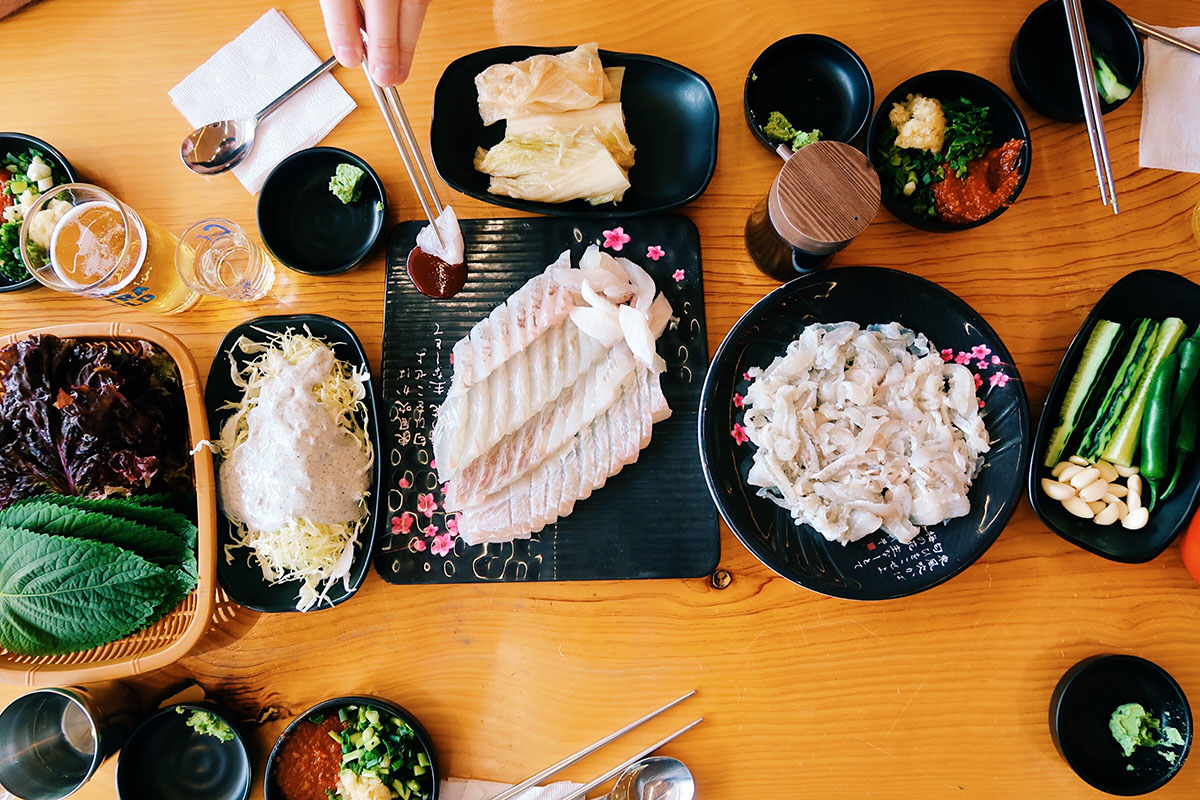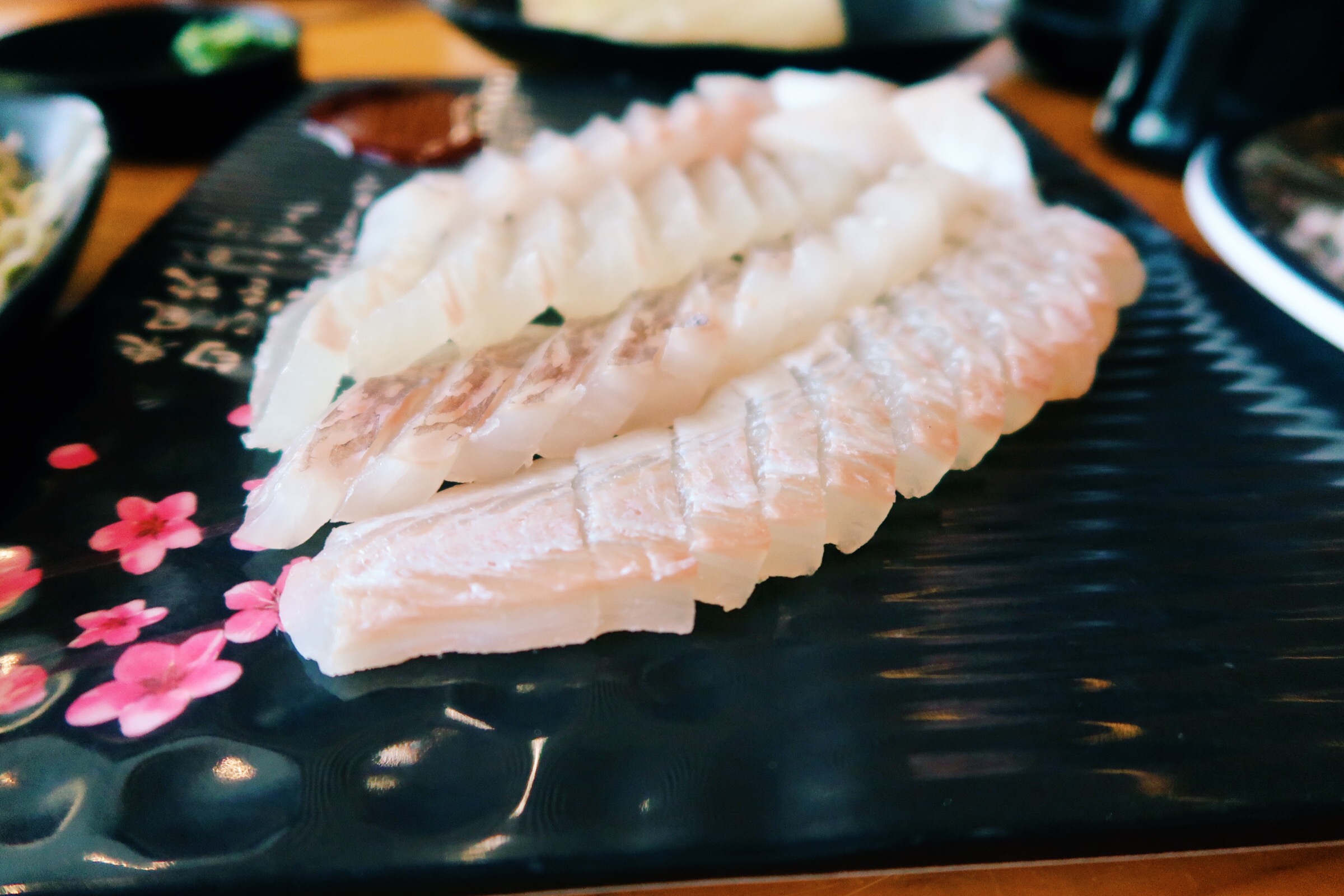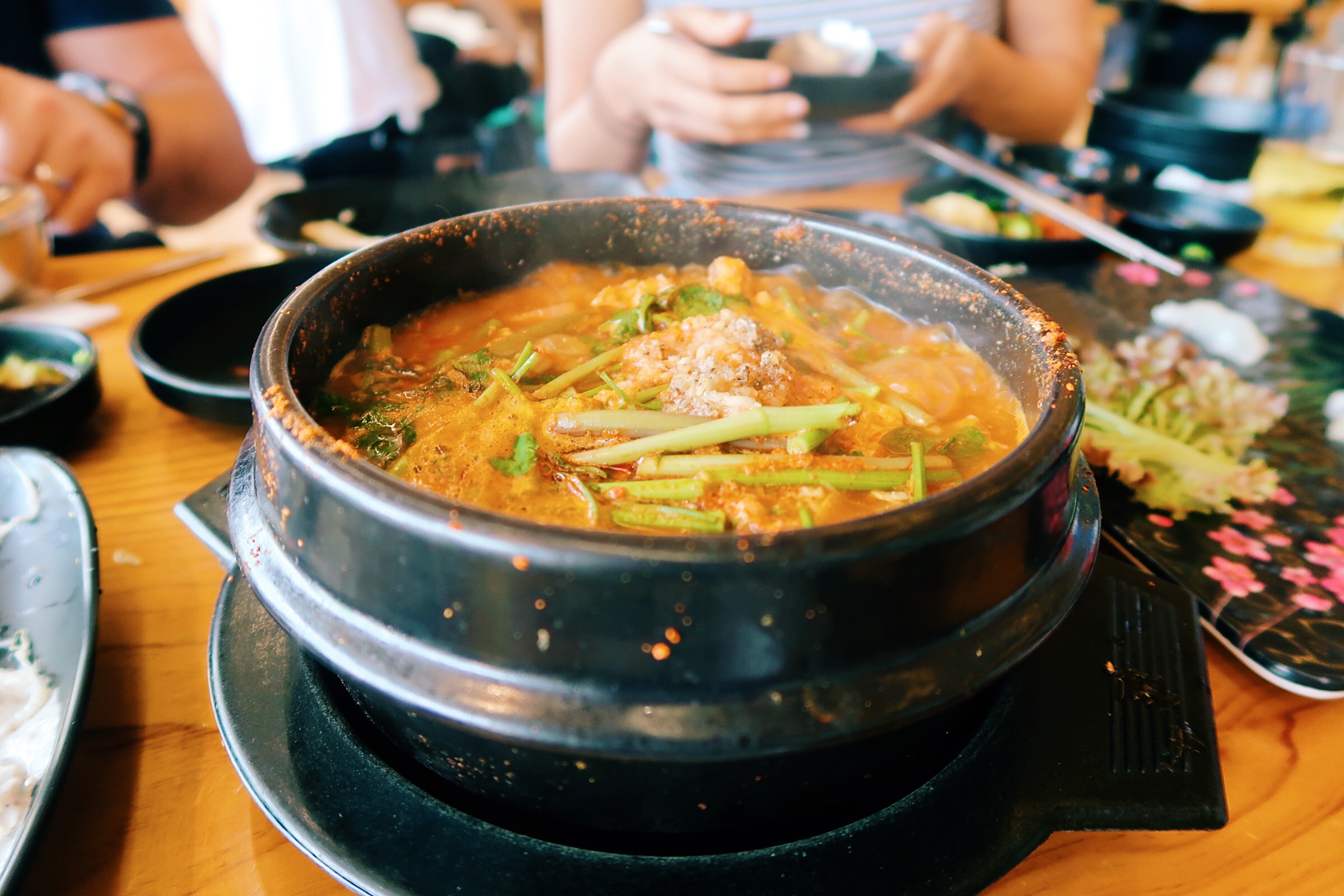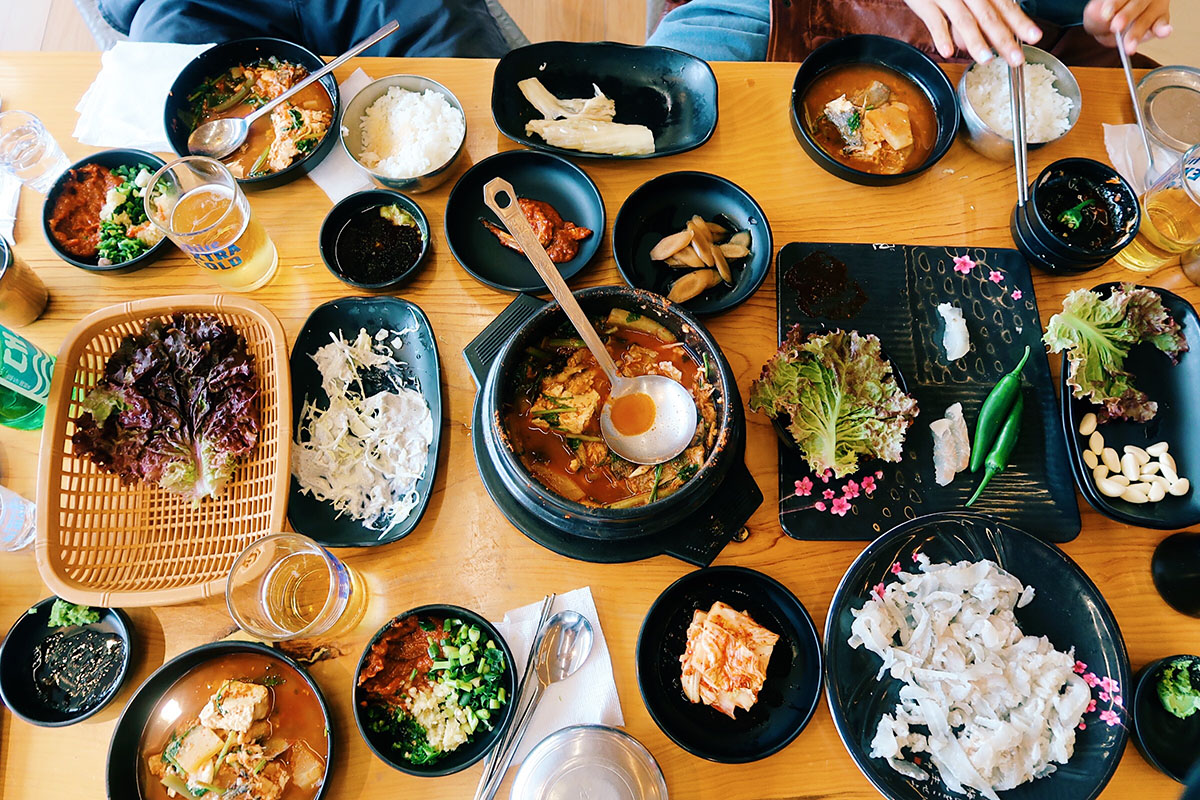 6:45pm
Stumbled out into the street and walked along the beach park, taking in the last remnants of sunset and people watching (and ok fine, I may have paparazzi-ed some corgis). We walked towards a stretch of buildings that had a bunch of bars Bryan had found, and spent the next couple of hours barhopping between Tiki Time (grab a seat outside for a great view of the bridge light show and people watching), Happy Monk (they have wine!), Beached Bar (we went upstairs in anticipation of a fun beach bar and immediately bounced thanks to the stale beer smell and feeling that we were in an old frat house) and Thursday Party, where we found the most epic beer pong table. It was $10 per game, and apparently full-service: they set up the cups for you, poured the beer, and gave new balls each game. After three games, we called it a night and headed back towards Haeundae.
10:30pm
There's a food stall alley near the beach at Haeundae, and while most of the spots closed for late night snacks, we found an essential: dumplings! We got an order of steamed 만두 to go, grabbed some snacks at the eMart24 at our hotel (more on this later) and Bryan got some fries at the McDonald's across the street. To say we had a late night feast would be an understatement.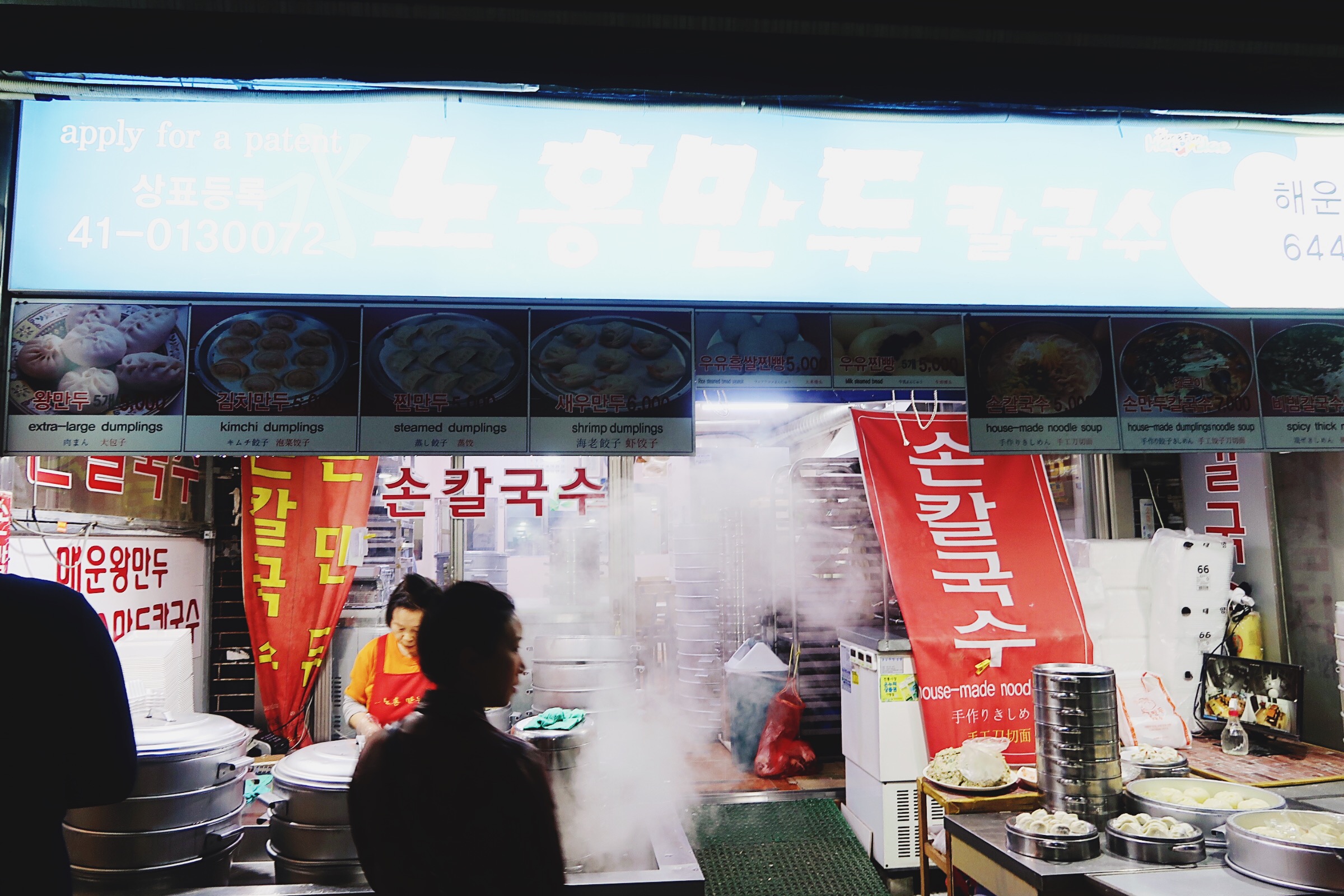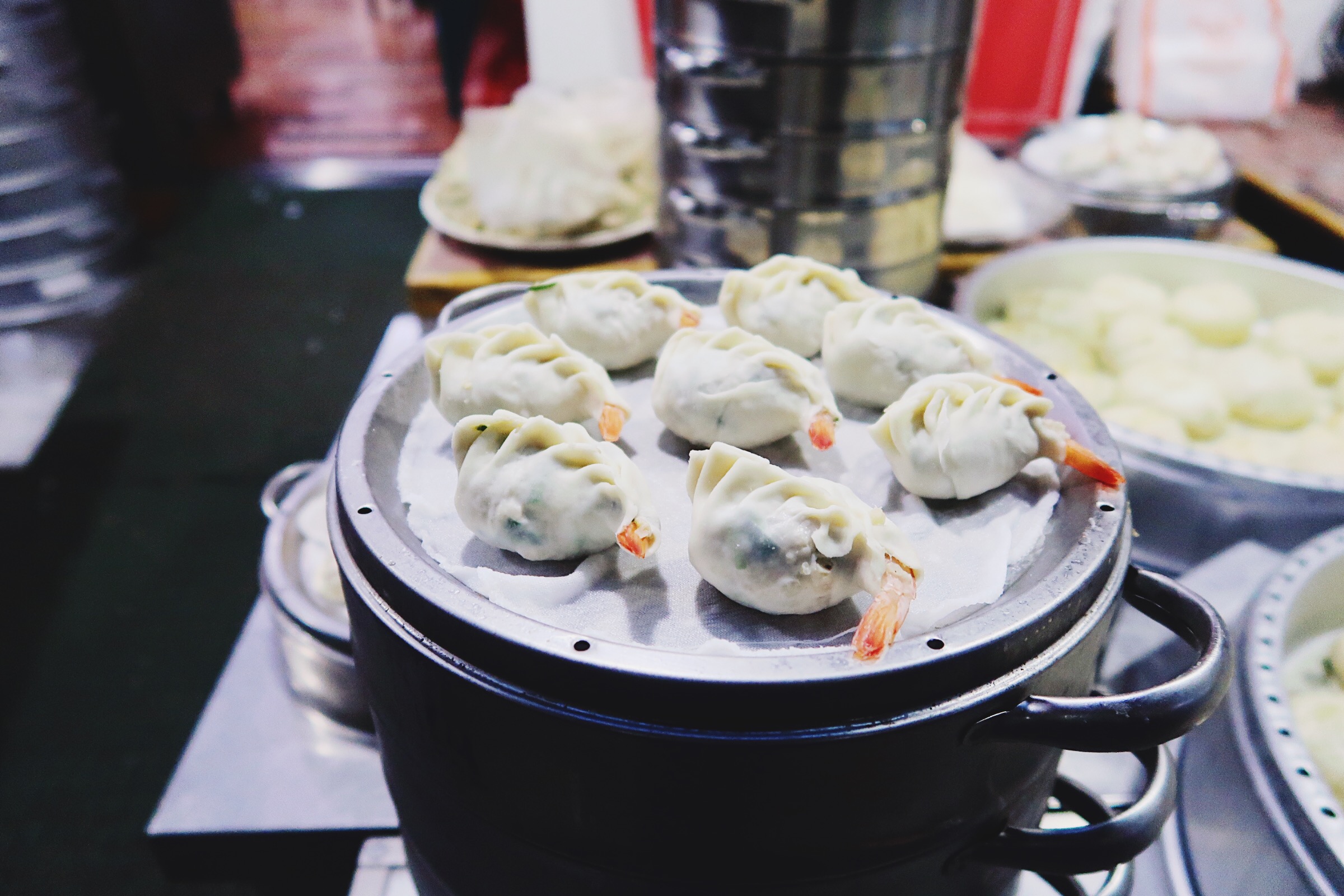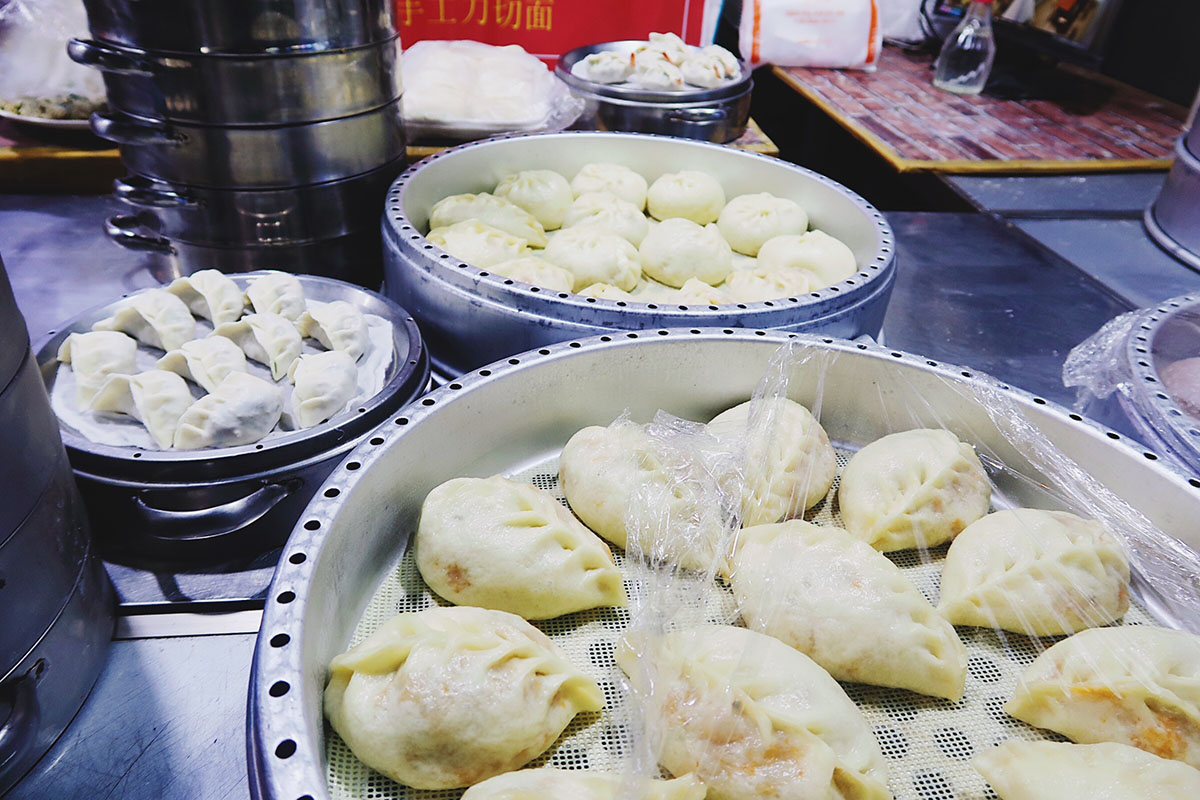 SUNDAY
12:30pm
We express checked out of the hotel at noon (after a brief panic that I couldn't find my wedding and engagement rings), and headed to a restaurant recommended by Yoonie's coworker, 해운대기와집대구탕 해운대점 (hangover codfish soup). Yes, I know that the idea of codfish soup is gross, but trust me—it was exactly what we needed after the night we had, and it was delicious to boot. There was so much fish in the stew, to an extent I hadn't ever seen. Every time I thought I had eaten all the fish, I found more in the bowl. The kimchi was incredibly delicious, and the gigantic piece of stewed radish in each bowl was a great flavor balance to the fish. It was $11 per person, unbelievable for how much food you get. Also, the service was impeccably efficient: since there's nothing else to order, 5 minutes or so after you sit down, the food arrives.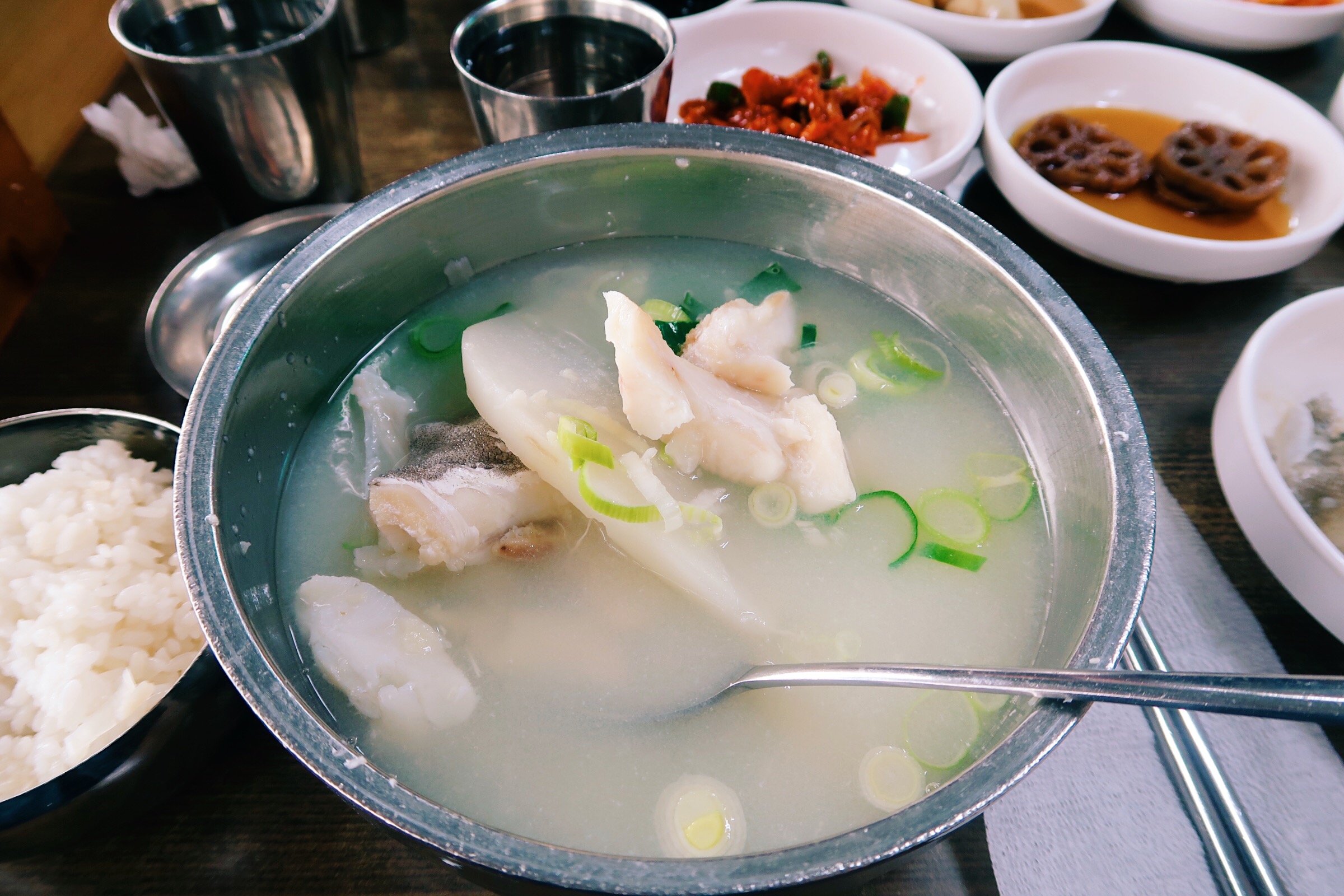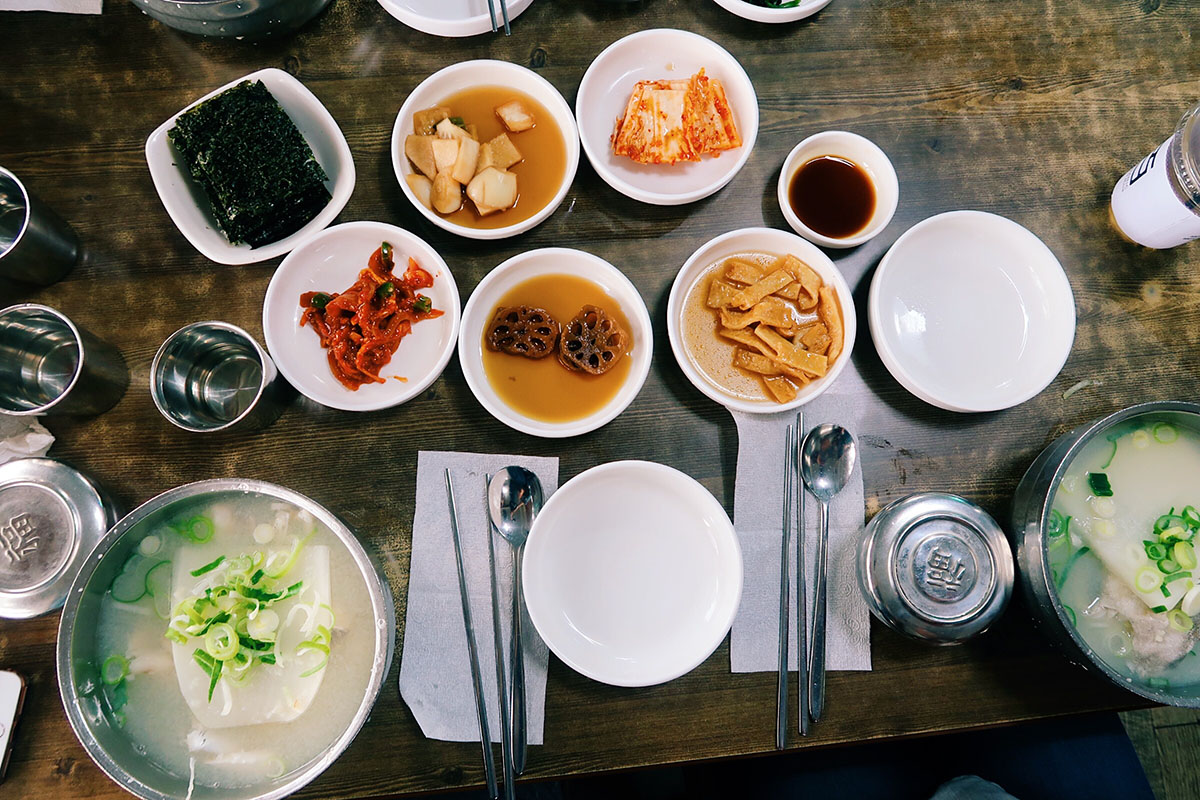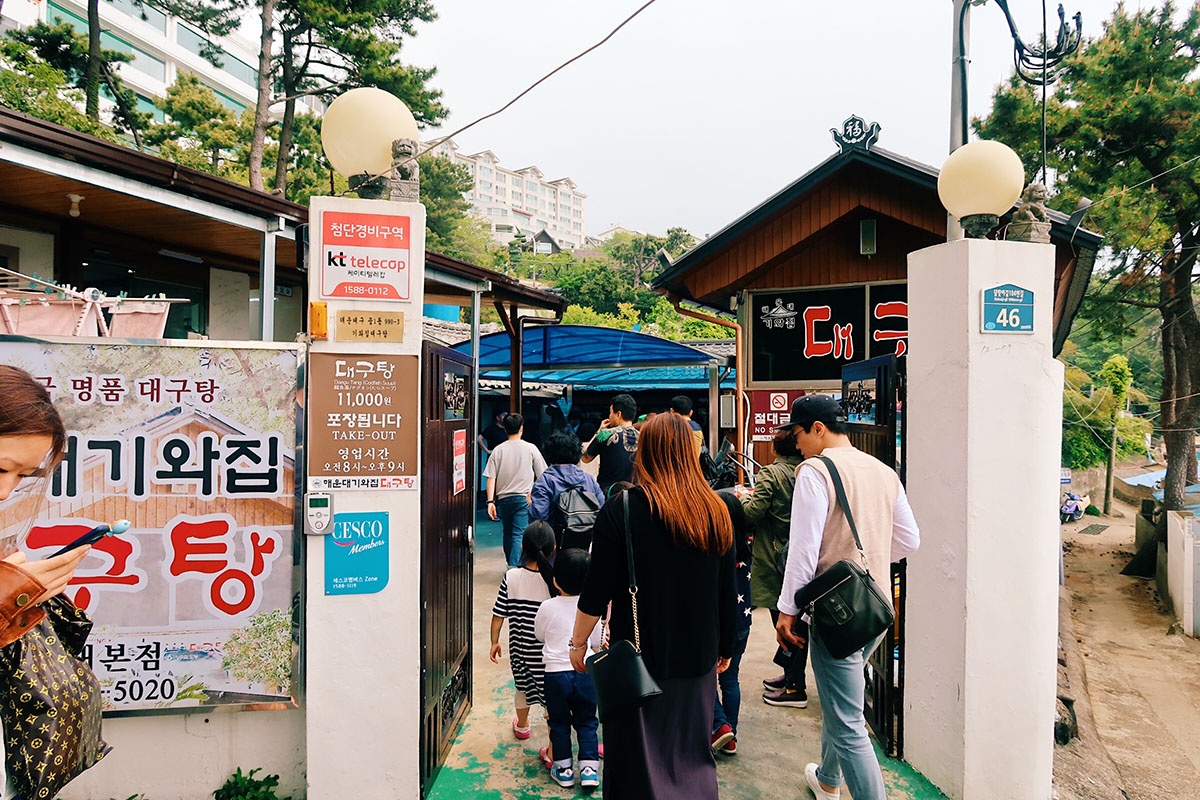 1:30pm
We headed back eastwards to Busan Station to catch our 3pm train. Traffic was pretty bad but after 30-40 mins, we arrived with enough time to get some snacks, have a Krispy Kreme donut and coffee, and get on our train without running in a panic (yeah, that happened when we left Seoul Station, oops). We arrived back in Seoul around 5:30, delirious and ready to spend the rainy evening at home.
Accommodations
We stayed at Shilla Stay, which came out to around $180 for the night for 3 people. There was a double bed and a twin bed in the room, and the bathroom had a full-size tub + shower. They provided one-time use toothbrush & toothpastes, Q-tips, Aveda shampoos and body wash, and complimentary water. There's an eMart 24 downstairs for any snacks you might need, a Vietnamese food cafe and a Baekmidang for coffee and whole-milk ice cream. If we stayed in Haeundae again, I would definitely stay here but I also think it might be nice to stay somewhere near Chilsung (the raw fish restaurant) to be a bit closer to the train station, but also still near a beach.
The Last Word
I'm really happy to finally traveled out of Seoul—Busan is a thriving city too, but with fewer skyscrapers like Seoul, so it has a bit of a bustling city feeling like Barcelona. People were friendly and welcoming, cab drivers were pretty chatty, and there were a ton of foreigners that we saw. I'd definitely go back again, and I think even a day trip is totally feasible.
If you find yourself in Busan, follow the locals! You can check out my Google Maps for all the spots my coworker recommended.
Restaurant Recap:
부산광역시 동구 중앙대로214번길 3-8
(지번) 부산 동구 초량3동 1200-6
부산 수영구 광안해변로 263
[지번] 민락동 177-1
051-753-3704 (Reservation recommended)
부산 해운대구 담맞길104번길 46 (중동)